The Albany Roman Catholic Diocese area extends roughly from Rensselaer, Albany and Montgomery Counties north to the Canadian border along the NY state line.

These chimes are (or were) located at locations in Albany, Amsterdam, Cohoes, Diamond Point, Gloversville, Hoosick, Hoosick Falls, Johnstown, Malone, Plattsburgh, Schenectady, Troy, and Waterford. Regardless of affiliation, all have been documented and most of them personally visited.

+++++++++++++++++++++++++++++++++++++++++++++++++++++++++++++++++++++

Albany, Cathedral of Immaculate Conception, 1862 Meneely of West Troy, oldest surviving 10 bell chime in U.S. Current electric action by Verdin works well. By today's standards, the options provided by this system should be upgraded.

When the chiming was electrified, no thought was given to retaining the original capability. This happened to many installations. The 1862, 150 year old manual action is being patiently restored to playable condition by volunteers. Pastor William Pape and historically knowledgeable music director Tom Savoy are very supportive of this effort.

The original clavier is unique, unfinished and not fancy, unlike those after the 1880's. It was found to have pieces broken and in trashy condition. It was obviously abandoned. It is being slowly restored to original playing condition, with broken parts being remade.
- The only change is adding a stop bar to limit the pump handle downward thrust from 9 to 5 inches.
- music stand will remain in back of vertical rods
- 10 pump handles will remain at 45 inches across, rather than 38 inches, as on most chimes since then
- original construction is unique, crude and unfinished - nothing fancy - unlike most from later years, but the original principles of installing a manual chime are basically unchanged over time. The original chimestand will remain on the 4th level, a reasonably safe, but tiring climb (and cold in the winter).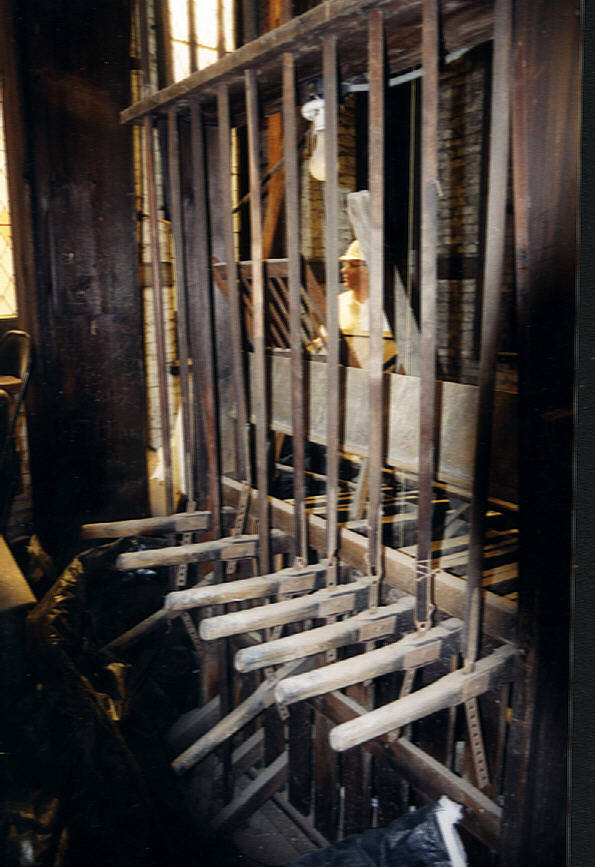 Music stand behind vertical bars. Broken pieces.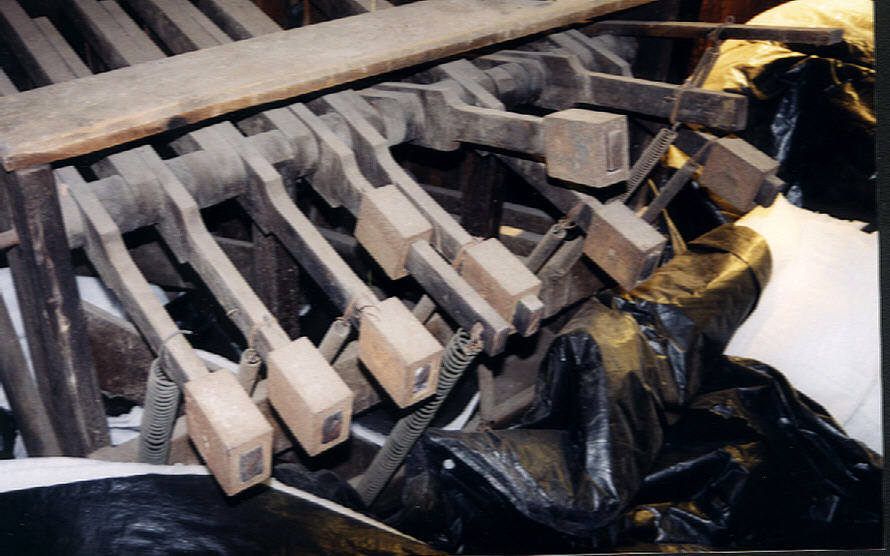 Counterweight and springs at end of pump handle. Few arrangements like this were ever tried.

The original lower tower clock mechanism is still on an underhanging 5th level. Pieces from the original 8th level after the 2000's tower restoration are now stored here. Nothing appears to be discarded. This was replaced by a very functional and reliable Verdin electric clock and hands on the 8th level.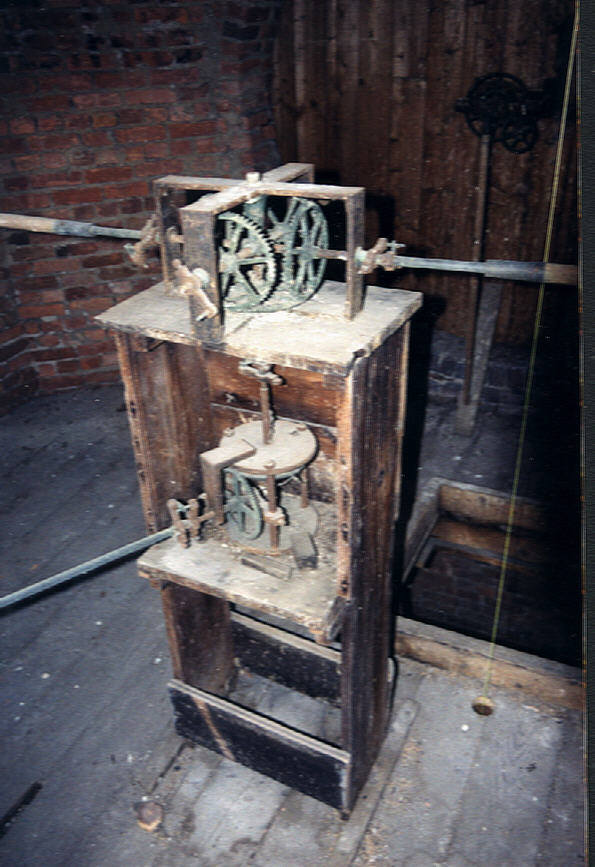 Original clock distributed time to the several clock faces. Now disconnected and moved from 8th to 5th level.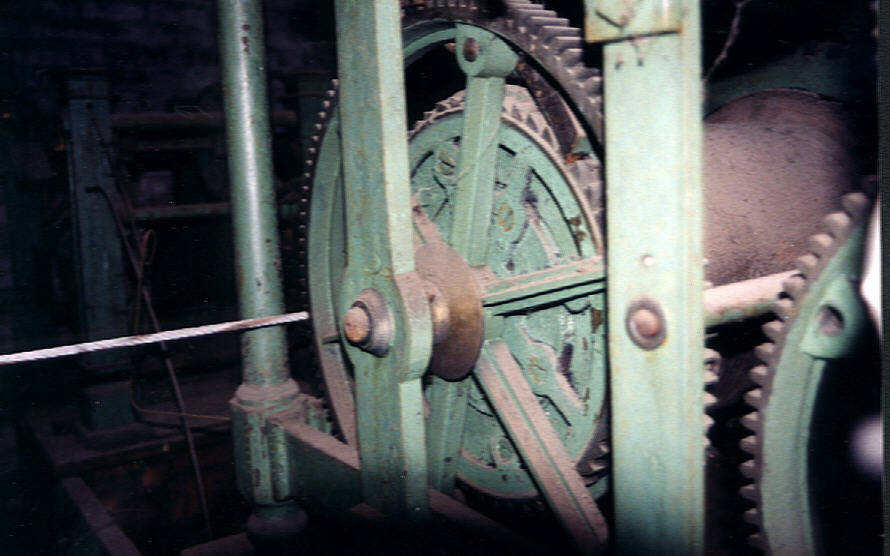 Thwaites & Reid, pre 1860, from 1st Reformed Church, Pearl St. Always on 5th level.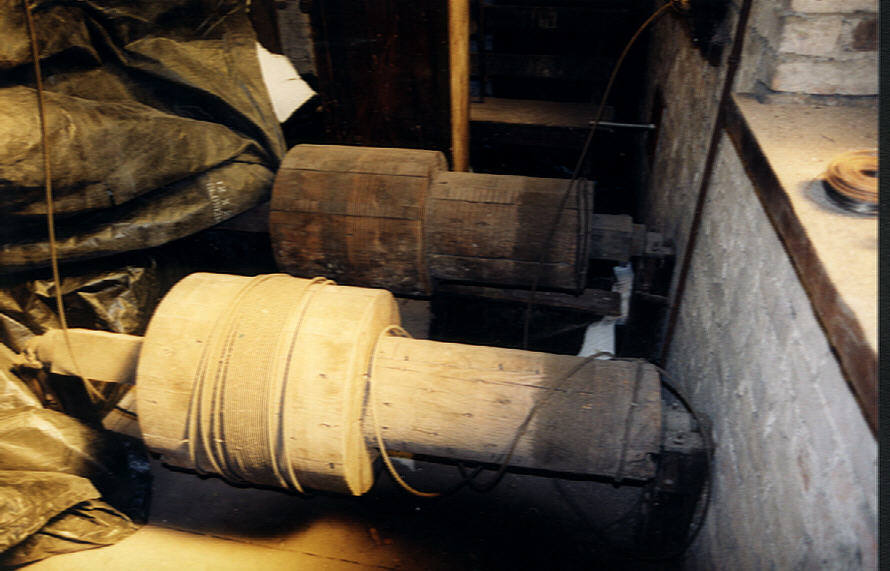 Old fashioned 8 day hand rewind for tower clock on 4th level

The bells, all dated 1862, except for the tenor bell, dated 1885 are on the 6th level. Can't help but wonder why and how it got there. No mention in records found so far. There are cutout squares from the 2nd level up, so 1862 and 1885 bells were probably hoisted into the tower.

Stringing cable from clappers to original vertical clavier rods, avoiding all obstructions, additions and changes since 1862. The 1st, 3rd and 5th bells were swingers, the rest stationary. These are now also stationary. The 10 bells are Eb to F with a flat 7th. There is a lockdown for both the 7b and 7 natural, on later chimes there was one lockdown between the two notes. The funeral toll clapper will be used for the tenor bell. Done occasionally in installations. Then a few adjustments to finsh the job.